Sept 15, 2010 So many things to do and must be done. First we plan our one day trip one day ahead before the adventure. Original plan to go by 7:30 am from Bulacan to Manila but got a news about the upcoming package that I can't wait to see. Its a Samsung wave phone from one contest and said to be delivered by Sept. 15. Wait Wait until 10 am then no sign of the package everyone that I know already receive their wave phone early morning. Anyway so we decided to go ahead and just leave my ID in case the package will arrived.
First stop SM North Edsa CyberZone for pull out of phone. It was almost two weeks just for the estimate then after knowing a total of 5622 pesos will be the cost for the repair. I decided to pullout the unit but I was on the main office so I have to wait two more days before it will be delivered on Nokia Care North Edsa. Mission Failed. See you on Sept. 17
Second Stop Dutdutan Tshirt for my Cousin. The country's biggest tattoo convention held annually, participated by local and international acclaimed tattoo artists. And the Tshirt design was classic and limited. Cyberzone has a Tribal Boutique but out of stock then the saleslady/salesman told us to go for other boutique 4th flr annex of SM North Edsa. We visit the department store at 4th floor but it was just for girl then we went back to ground floor for the men section then no Dutdutan Shirt. Last Resort go to The Block we are not familiar with The Block and we didn't saw any directory. Walk Walk Walk then finally Tribu Boutique and they have a DutDutan Shirt. So time to spent buy and go.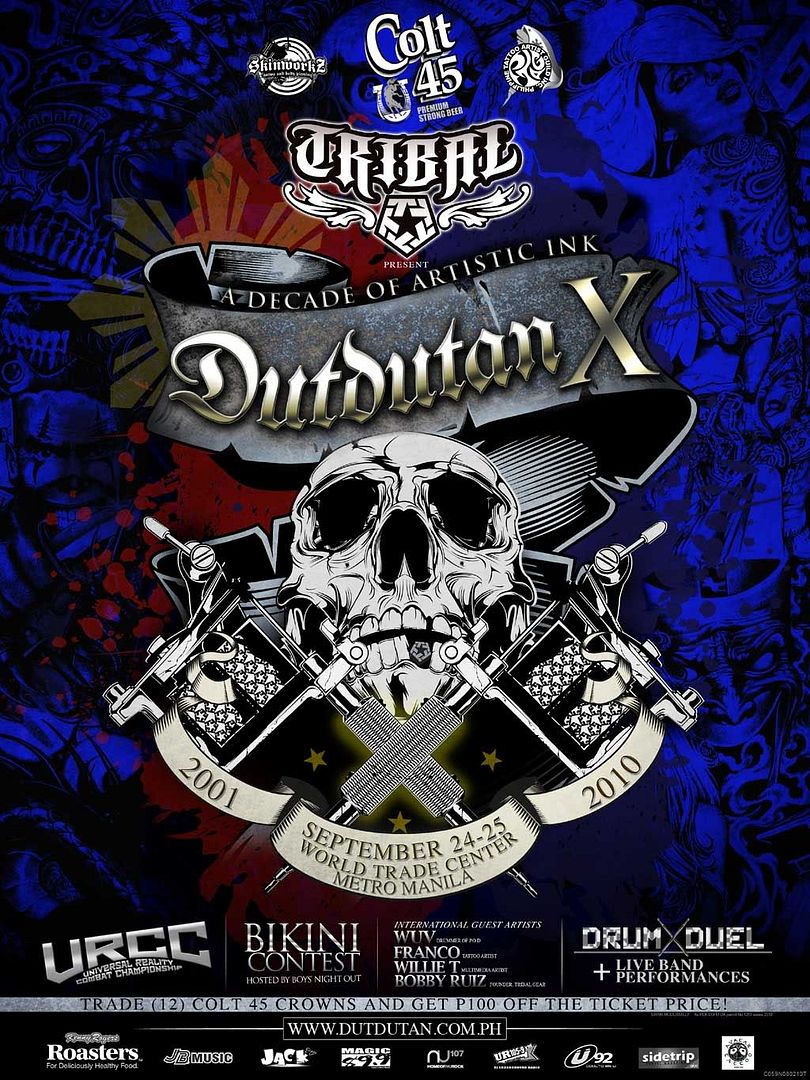 Third Stop
Subaro Impreza Challenge
Application Submission over Subaro Showroom
Forth Stop
Oracare Dare
at 2k Unique Plaza, Sierra Madre Street, Highway hills Mandaluyong City
Fifth Stop Meet Up to Drop Movie passes over Robinson Pioneer for Joseph Aka Adik. Meet up on Ministop we are on time just 10 minutes then go to the 6th stop Ayala. Glorietta 4 to claim the Hellogoodbye concert happening on Sept 17.
HelloGoodbye.
HelloGoodbye Passes but I think I can't make it if you want the passes meet me on Trinoma Sept 17.
7th Stop Glorietta 5 shopping time thanks to Wrangler GC from Boy Kuripot . 3000 GC equals 2 pants and 2 shirt
8th Stop Second Blogger Event.
Top 10 Emerging Influential Blogs Winners Announcement
that will be a different post :D
9th Movie over Power Plant Mall with Maya, Joseph and the Girl forgot the name.
Joseph and The Girl hehehe peace ate forgot the name talaga memory gap
Via Challenge of Starbucks. We tried but I missed the correct answer.
Must try Coffee Via from Starbucks
Last Full Show of Going the Distance over Power Plant Mall best thing to do to end the Day.
Everything is free just look for it